ACTIVITY CALENDAR (pdf)
Upcoming Activities
Feb 17: COVE Closed – President's Day
Feb 18: Accessible Voting (Los Baños 10:30 – noon)
Feb 20: Fundraising Committee (1:00 – 2:30)
Feb 21: Men's Group (10:30 – noon)
Feb 21: Book Club (2:00 – 3:30)
Book Selection: The Forgotten Garden; Kate Morton
Feb 25: Out-of-Sight Crafters (10:00 – noon)
For more info contact COVE: 209-722-8118
or cove.merced@gmail.com
___________________________
Join Yosemite Gateway
Council of the Blind
Friday, February 21, 2020
12:30 – 1:30
Informational Membership Meeting
(Pizza Lunch provided)
at COVE – 1901 G Street, Merced
Learn what Yosemite Gateway Council of the Blind is all about and how you can connect to others who are blind or low vision locally, in California, and Nationally.
Annual dues are only $20
Membership to Yosemite Gateway Council of the Blind extends to the California Council of the Blind and the American Council of the Blind. All of these organizations work to make life better and more accessible for the blind and people with low vision.
Pleae join us on Friday, February 21, 2020.
Contact COVE at 722-8118 or email cove.merced@gmail.com
___________________________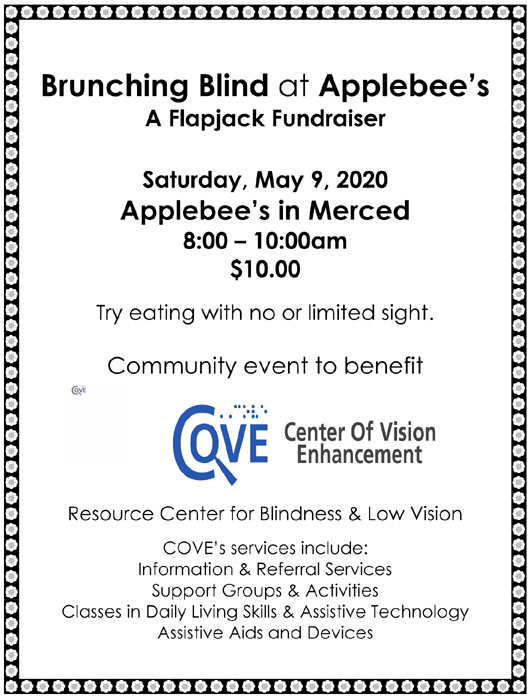 ___________________________
Adjusting to Sight Loss
Group Meetings
Thursdays
10am – noon
at COVE (1901 G St, Merced)
Starting Thursday, Feb 6th
Each week a different topic will be
covered regarding the resources,
strategies, techniques, assistive aids,
and adaptive technologies to do daily
tasks with limited or no sight.
Contact COVE to RSVP at 722-8118 or email cove.merced@gmail.com
___________________________
Accessible Voting
Trouble marking your ballot?
Learn about the new voting machine
that helps blind/visually impaired
voters mark their ballot.
COVE – Merced
1901 G Street
Thursday, February 13th
11:30am – 1:00pm
Elk's Lodge – Los Baños
565 E Street
Tuesday, February 18th
10:30am – noon
___________________________
Caretaker's Group
Care taking can be stressful, frustrating, and tiring.
But you are not alone.
There are many of us supporting our visually impaired partners,
family members, and friends. Support providers are also
welcome to join this group. We can support each other. A
burden shared is a burden halved.
Jill Loving has offered to host a Caretaker's Support Group. Jill is
part of a support group in Modesto and finds it very helpful.
Jill will host the Caretaker's Group on the 3rd Friday of the month,
from 10 -11:30 am. This is the same time as the Men's Group.
For more information and to sign-up for the group, contact COVE
at 209-722-8118 or cove.merced@gmail.com
___________________________
FREE
ADA MULTI-RIDE BUS PASS
Are you a qualified ADA rider for The Bus?
Are you at least 60 years old?
You may qualify for a free ADA Multi-Ride Bus Pass.
Contact:
Merced Area Agency on Aging
851 W 23rd Street
Merced, CA 95340
209-385-7550
Quantities are Limited!